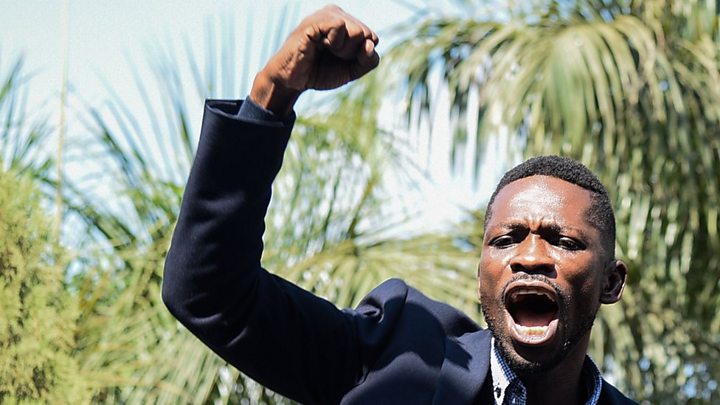 Bobi Wine, 36, whose real name is Robert Kyagulanyi, was charged with treason alongside 32 other politicians following campaign violence during a by-election in August. Some of music's biggest names, including Angelique Kidjo, Chris Martin and Damon Albarn, signed a petition for the MP's release when he was in detention last month . Some see Bobi Wine's popularity as sign of a generational rift between Uganda's young population and President Yoweri Museveni, who has been in power since 1986. Image caption Bobi Wine said he was eager to see his children after being away 'Ambitions for a people-power revolution' Analysis by Fergal Keane, BBC Africa editor, Kampala Bobbi Wine is a significant figure not only in the emerging politics of Uganda but in the story of a changing Africa. He represents a youth voice that is social media-literate, hungry for economic development, and angry with the corruption and cronyism that has blighted the lives of generations. Three-quarters of Uganda's population is under the age of 35 and Bobi Wine told the BBC he has come home to lead a people-power revolution. The very fact that President Museveni has allowed Bobi Wine to return to his home represents a victory for the musician-turned-politician – and is possibly the consequence of international pressure. But for all his undoubted support among the young, he still lacks a wider political organisation to challenge for the presidency, and 74-year-old Yoweri Museveni may have simply paused in his familiar tactics of repression. Police earlier arrested several people who had been trying to reach Entebbe Airport to welcome the politician back. The police later issued a statement thanking Bobi Wine for co-operating with officers who escorted him home from the airport.
https://www.bbc.co.uk/news/world-africa-45587144

The painting was originally purchased from Matisse by Oskar Moll, the husband of Margarete Moll, also known as Greta, the woman portrayed in the painting, and taken to Germany. The couple were living in Berlin in 1946 when, fearing the upheaval of the postwar partition of the city, they decided to send the portrait abroad to protect it from looting. Oskar Moll died in 1947, and Margarete Moll entrusted the painting to a former student of his who promised to take it to Switzerland for safekeeping. Upon arriving there, however, the onetime student sold it instead and kept the proceeds. Margarete Moll moved to Wales, and the painting then went through a series of owners, including the New York gallery Knoedler & Co and the Lefevre Gallery of London, before its purchase by the National Gallery in 1979. According to court documents, the three grandchildren—Oliver Williams, Margarete Green and Iris Filmer—first pressed their case for the painting's recovery in 2011, but the National Gallery declined to return it. In 2015, they sought a review by the Spoliation Advisory Panel, a British government body investigating Holocaust-era art claims, but the government said the panel lacked jurisdiction because the Nazi era ended in 1945, two years before the portrait was sold in Switzerland. The heirs then filed suit against the National Gallery and the UK in the US, and the US District Court for the Southern District of New York rejected their claim last year, leading to the appeal. Asked if the grandchildren planned to further appeal the decision, David J. Rowland, the New York lawyer representing them, said: "That's all being reviewed." He declined to comment further.
For the original version including any supplementary images or video, visit https://www.theartnewspaper.com/news/court-rejects-claim-to-matisse-owned-by-national-gallery
Simple Information On Painless Products
In addition to the Daily Herald, Paddock Publications operates the monthly Daily Herald Business Ledger, the weekly Reflejos Spanish-language publication, a group of small downstate newspapers throughout Illinois, a commercial publishing business and a growing list of niche publications. "We all know the dynamics of a changing newspaper landscape, one newspaper sale after another, in some cases to investment firms, and in others to large public companies," Ray told employees. "All the while the Paddock board of directors has fostered independent newspapering and has supported a culture of community service best served by local control. This ESOP transaction is designed to continue our family-oriented legacy and importantly to build upon a successful and sustainable business model driven by employee owners." It marks the end of an era of Paddock family ownership of the company that began in 1898 when Hosea C. Paddock, an entrepreneurial editor, bought the Palatine Enterprise and soon added weekly newspapers in Arlington Heights, Bensenville, Itasca and elsewhere. Through four generations, the company has remained in the family — until now. "I am nostalgic, proud of our company, and optimistic," said Robert Y. Paddock Jr., executive vice president and vice chairman. "I am happy we have an opportunity through the ESOP to continue Paddock Publications' commitment. We value journalism, community, and our employees.
For the original version including any supplementary images or video, visit https://www.dailyherald.com/business/20180913/paddock-family-selling-120-year-stake-in-daily-herald-to-newspaper-employees